After a few months of processing vials, we're glad to say that all the packages have arrived with the judges, and nothing was lost in the mail. We're excited to get to this next stage in the awards, and cannot wait to share the results when we announce the finalists on April 5 at Esxence, in Milan.
A NOTE ABOUT OUR JUDGES
When we are deciding who will be in our judging pool, one of our strongest considerations is to create the fairest mechanism for assessment that we possibly can. As the judges are the most crucial part of this process, we look for judges with several important qualities, including:
+ A deep experience with what we call "the weeds" of perfumery (for non-Anglophones: "getting stuck in the weeds" is a colloquial expression that means to go very deep into the details)
+ A singular and unique practice or perspective
+ An ethical commitment to "perfumery without politics"
+ A quantifiable dedication to their peers and their community
+ A willingness to spend a good portion of their time off in late 2017 / early 2018 smelling and assessing lots and lots of little blind vials, on a volunteer basis
Anyone who's navigated the shifting social tides of the perfume "scene" will intuitively understand that finding people with these unique combinations of characteristics isn't easy. But, these unicorns do exist, and the proof is in our judging pool.
There, you will find perfumers, curators, writers, academics, distributors, artists, historians, scientists and retailers - coming together to create a form of peer review that is substantially inspired by Slamdance Film Festival and it's motto: "By filmmakers, for filmmakers."
BUT ON TO THE PHOTOS!
The flip side of this diversity of perspective is that our judging pool is now spread out around the world: From Montréal to Athens, New York to Stüttgart. We have precious little opportunity to take photos of them in action, barring a series of flights that would put even a seasoned pilot into permanent jetlag. So when some of our Los Angeles-based judges agreed to let us tag along to watch them at work, we jumped at the opportunity. Navigating Hollywood traffic is its own form of long-haul travel, but at least we can stop for coffee along the way.
Christopher Gordon - who runs The Perfumer's Studio in Los Angeles (and has a line of his own: Maison Anonyme) - is judging the independent category.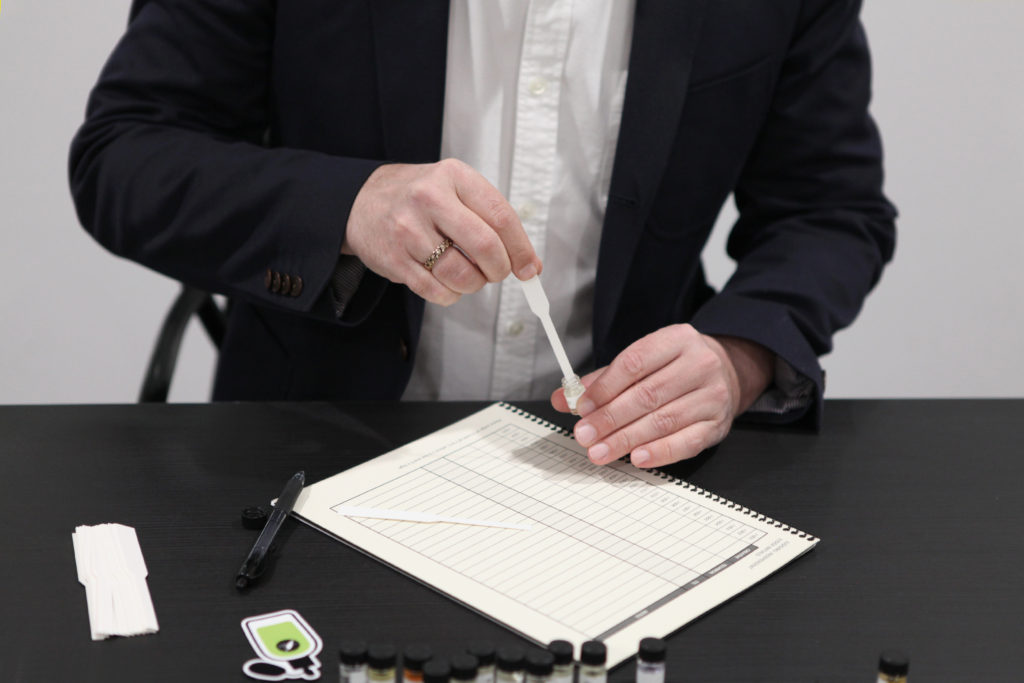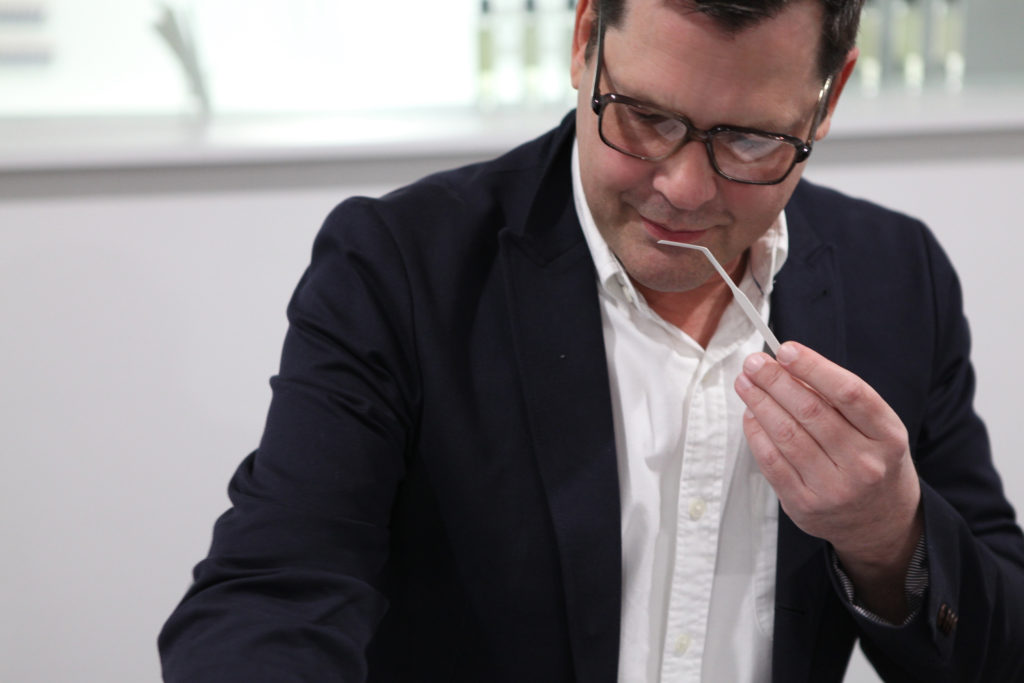 Darin Klein, a curator and arts producer in Los Angeles, is pictured here in his home, starting the judging process for the Sadakichi Award for Experimental Work with Scent.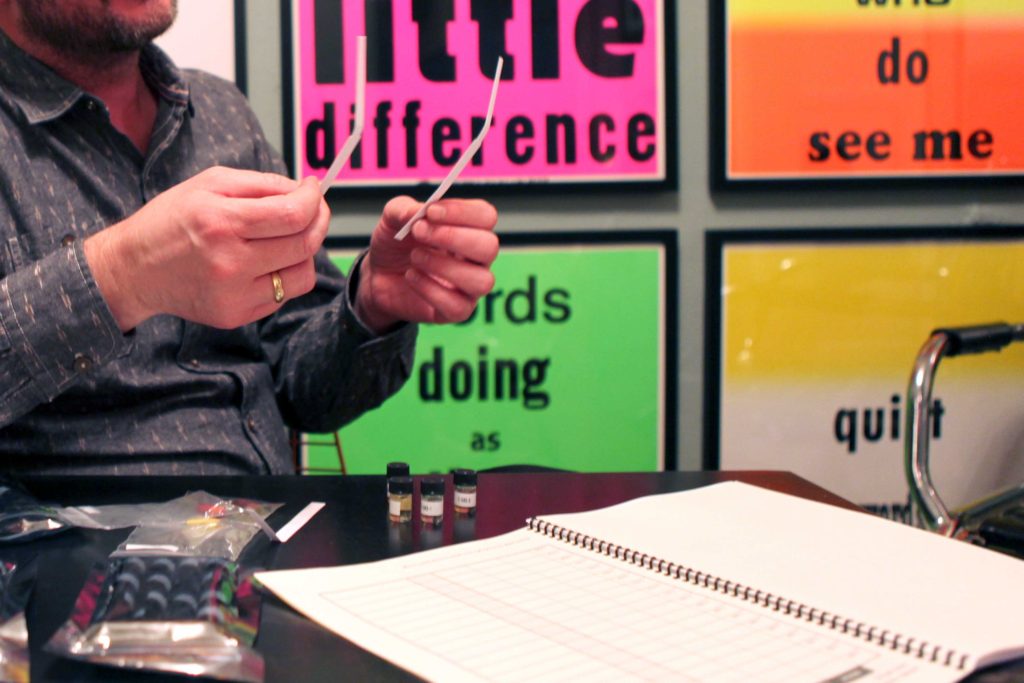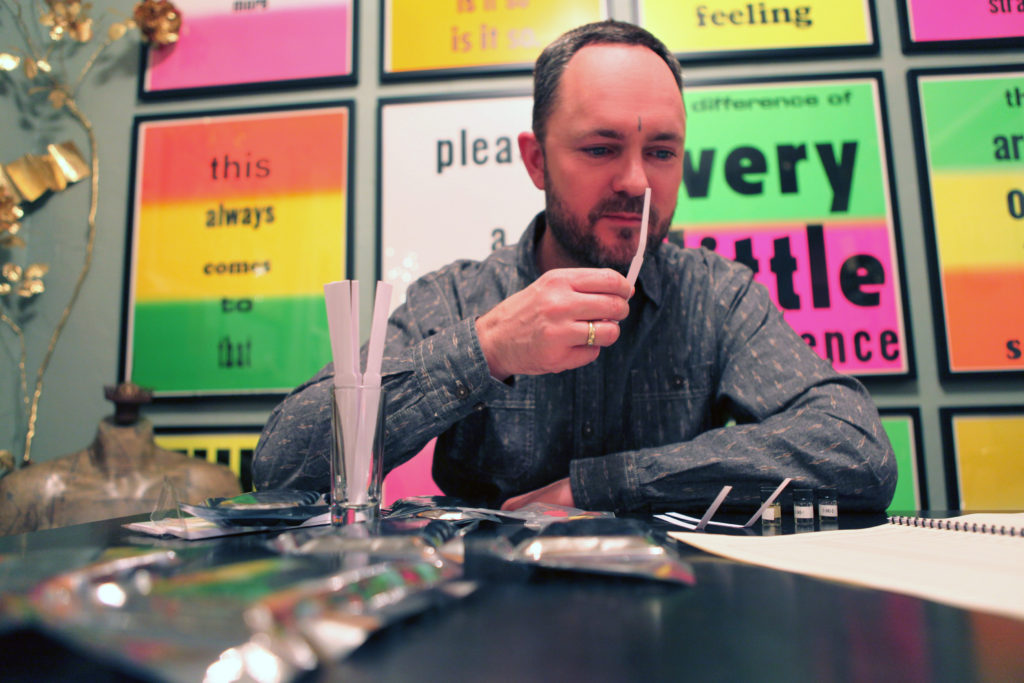 Our most sincere thank you to these two, and all our other judges, for volunteering their time to review the submissions.
We'll keep you updated, of course, here, on Facebook and on Instagram.
- Saskia
(on behalf of the Art and Olfaction Awards team )
-
Questions? hello@artandolfaction.com
-