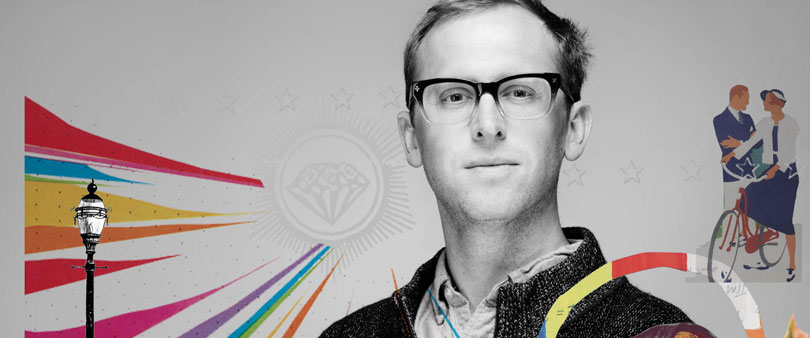 Name: Josh Meyer
Company: Imaginary Authors
Finalist Perfume: Mosaic
Category: Artisan
1. Where are you, right now?
In the Imaginary Authors workshop in Portland OR. It's a in great part of town, has great big windows and is conducive to creativity. I always really enjoy spending time here.
2. What was the last thing you searched for, in Google?
I've been working on fig accord and scent structures recently, which isn't something that is distilled from the plant itself and was just searching photos of the fruits insides and outsides and pics of the fruit on the tree to create a photo board for the new scent ideas.
3. What's a song you are listening to, these days? 
Wouldn't it be Nice by the Beach Boys seems to get played every single day, but I also listen to a lot of the Ramones, and the Pixies, and Jesus & Mary Chain.
4. What led you/your company to perfumery?
I really wanted to make perfume for my friends, partly as a justification of my own fragrance addition, so that I could share the passion and help people understand why it's so fun and deeply interesting.
5. What excites you about your finalist perfume?
My favorite scents are those that are likable but also equally as interesting. Mosaic has a traditional opening, which I think is appealing, but the middle and basenotes contain a very fun accord of mineral water that's completely fascinating.
6. Name three scents (other than your own) that you are a big fan of.
Just three? I've been loving Konig from Yosh, that's such outstanding stuff. I've also been enjoying Cuir d'Iris from Perfumerie Generale lately, the iris note is great as the spring weather starts to chime in. I've also been wearing Parfums d'Nicolai's Pour Homme, which has an incredible lavender opening. A couple others include: Profumum's Arso and Mazzolari's Lui.
7. If you could give a few words of advice to a young person trying to do something in the world, what would you say? 
Be passionate and be really sweet, generous and loving to everyone you meet.
–
Learn more about 'Mosaic' and the other perfumes that make up the Artisan category finalists by clicking here.
--