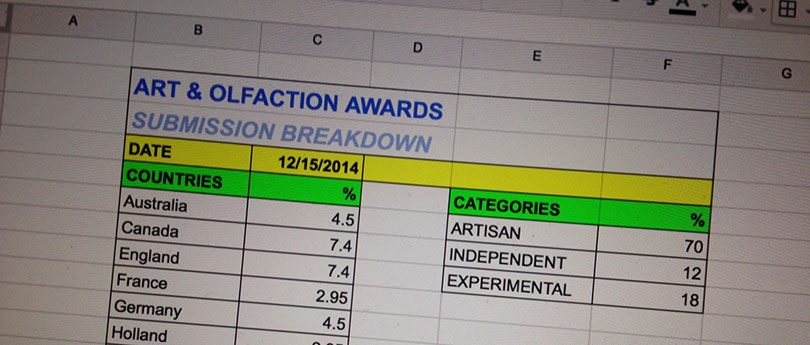 Submissions close on Friday, and the vials are coming in steadily. In the spirit of openness, we thought to share some of our submission statistics with you.
Here's a screenshot (note: These are percentages, not actual numbers)!
As you can see we've received submissions from 11 countries so far, with the majority of submissions (54%) coming from out home turf in the US. So far, our most popular category is the artisan category, with 70% of the total submissions.
However, our experience from last year tells us that this will drastically even out in the last week of submissions, as the deadline approaches. People do tend to work to deadline, no?
Speaking of deadlines: We close submissions this Friday the 19th, at 11:59pm (PST). You can send us two perfumes in each category, but they must have been released in the 2014 calendar year.
Thank you for helping us make this little Awards mechanism a success. Without your participation, there really is no point. Don't hesitate to email us with questions about categories, vials or the meaning of life: We're standing by at [email protected]
Published by: artandolfactionawards in news