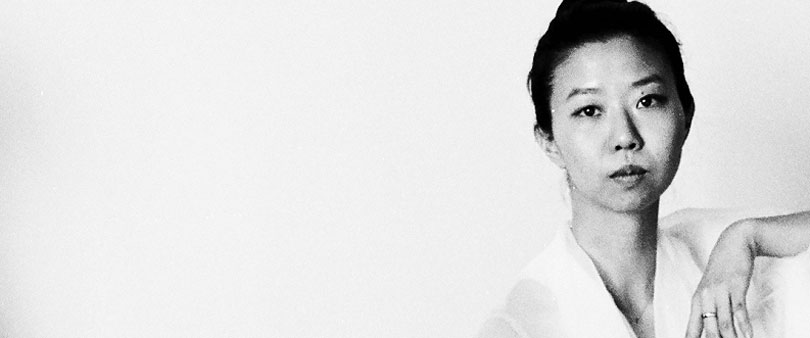 Name: Beau Rhee
Company: Atelier de Geste
Finalist Perfume: Blood Sweat Tears
Category: Independent
1. Where are you, right now?
I am in my studio/office in Chelsea NY with a nice hot café au lait.
2. What was the last thing you searched for, in Google?
Had to look up MSDF (Material Safety Data Forms) for paperwork to send to a client. That, and..."Billy's Bakery cupcakes open late?"
3. What's a song you are listening to, these days?
For my artistic work, I'm creating a performance inspired by the Blues and the color blue, so I've been on a major blues mode the last year. I listen to Blues hour on WBGO (88.3FM) and always come across a lot of gems. Hard to choose just one. These days, Nina Simone "Do I Move You" is on repeat. It's just the right mix of gritty, sassy, smoky and woman. I'm a jazz girl.
4. What led you to perfumery?
As a child, I woke up to coffee brewing and dad's colognes, he had a collection. This is probably why I collected fragrances growing up, they were that je ne sais quoi thing that I coveted. I remember saving up for my first bottle of Chanel Chance as a teenager, and the joy that accompanied having it in my young high school life. It was like a constant friend, a piece of armor, a little invisible confidence cloak.
At Barnard College, Columbia University, I double majored in Art History & Dance, and I used scents as a psycho-somatic inspiration in dance classes and rehearsals. They always took me somewhere deeper. I love finding unexpected relationships between art forms, which probably explains my Bauhaus preoccupation, especially with Oskar Schlemmer.
During my post-college years of working in the contemporary art & fashion industries in NY, I continued to dance in independent projects, and the scent-movement relationship deepened. At my M.F.A. studies at the Haute école d'art et de design de Genève (University of Art & Design Geneva) I started to craft a scent project with my advisors (Laurent Schmid & Markus Miessen): how could I express performance & movement ideas through scent? It was really an art project that was made possible by a collaboration with a perfumery in Grasse. As they say, the rest is history. This humble start was the inception point to the birth of Atelier de Geste scents!
5. What excites you about Blood Sweat Tears?
One of the things I love most about Blood Sweat Tears is its hypnotic drive that makes people (myself included!) keep coming back for more. It must have to do with the addictive essences used in the composition, as well as the ebb-and-flow circular movement within the scent itself. All elements of the packaging (the bottle shape, the blue circle on the box) echo this motion.
Another aspect of Blood Sweat Tears I love is its inner counterpoint/clash: the classic more harmonious proportions (due to its creation in a historic perfumery) and the more helter-skelter, jazzy, undulating composition with its quickly mutating structure of unique notes.
6. Name three scents (other than your own) that you are a big fan of.
Corso Como 10, Carla Sozzani
Untitled, Maison Martin Margiela
Nu, Yves Saint Laurent
7. If you could give a few words of advice to a young person trying to do something in the world, what would you say? 
Fire in the belly is probably the most important: motivation & that invisible intensity to really strive for a Vision. That's the fuel.
Fire in the belly coupled with (a phrase I've coined) Gritty, Pretty, Ready, Steady:
Gritty: The determination to slog through life's gritty thankless details and knowing that, yes, "God is in the details" (Mies van der Rohe).
Pretty: Look good, feel good. Present yourself best, present your work best. Life is not a dress rehearsal.
Ready: Good opportunities come to those who have worked very hard to be prepared for those opportunities.
Steady: Find your Steady, whatever ritual, person, thing it may be. People respond very well to consistency. "Staying Power," as Neil Young sang (yes, look up that song). It shows gumption, steadfastness, toughness.
My Steady? Small rituals that add up: daily coffee, swims, making dinners with bf, weekly gallery/inspiration time.
–
Learn more about 'Blood Sweat Tears' and the other perfumes that make up the Independent category finalists by clicking here.
–