April 5, 2018 - Comments Off on 5th A+O Awards: Announcing the finalists
We are pleased to announce the nominees for the 2018 Art and Olfaction Awards, which we made public in a special press event at Esxence, in Milan, on April 5, 2018.
Awarded to just four perfumes, one experimental scent project and two special awards a year (the Aftel Award for Handmade Perfume and the Contribution to Scent Culture Award), The Art and Olfaction Awards are designed to raise public interest and awareness around new developments in independent perfumery. The Awards, established in 2014 by the Institute for Art and Olfaction, are given to outstanding creators in the categories of independent, artisan, and experimental perfume from across the globe, chosen for perfumes released in 2017.
The fifth annual Art and Olfaction Awards events will take place in a public ceremony at The Tabernacle. Continuing the tradition of holding the awards in unique locations in different perfume capitals of the world, the Tabernacle is a Grade II-listed building in Powis Square, Notting Hill, London, England, built in 1887 as a church and converted into an arts center in the 1970s.
Each Art and Olfaction Award winner will receive The Golden Pear, which continues to cement its status as a prestigious achievement in the perfume world.
As with past years, our panel of esteemed judges includes luminaries from the perfume and art worlds. The members of the Art and Olfaction Awards 2018 jury include: Andy Tauer (Switzerland), Antonio Gardoni (Italy), Christopher Gordon (USA), Grant Osborne (UK), Harald Lubner (Germany), Josh Meyer (USA), Sarah McCartney (UK), Andreas Wilhelm (Switzerland), Bibiana Prival (USA), Dana El Masri (Canada), Dawn Spencer Hurwitz (USA), Matthias Janke (Germany), Ulrike Knöll (Germany), Spyros Drosopoulos (Netherlands), Cristiano Canali (France/Italy), Denyse Beaulieu (France), Helder Suffenplan (Germany), Jeanne Doré (France), Katie Puckrik (England), Luca Turin (Greece), Mark Behnke (USA), Ashraf Osman (Switzerland), Caro Verbeek (The Netherlands), Darin Klein (USA), Sarah Baker (England), Simon Niedenthal (Sweden), Zoe Crosher (USA), Frederic Jacques (USA), Hall Newbegin (USA), Mandy Aftel (USA)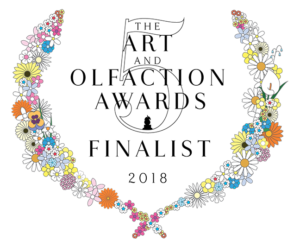 THE FINALISTS FOR THE FIFTH ANNUAL ART AND OLFACTION AWARDS
ARTISAN CATEGORY FINALISTS
Bee's Bliss
by Sonoma Scent Studio, United States
Perfumer: Laurie Erickson
Chienoir
by BedeauX, England
Perfumer: Amanda Beadle
Cigar Rum
by Strangers Parfum, Thailand
Perfumer: Prin Lomros
Club Design
by The Zoo, United States / Germany
Perfumer: Christophe Laudamiel
Impressions de Giverny
by Fort and Manlé, Australia
Perfumer: Rasei Fort
Morah
by Pryn Parfum, Thailand
Perfumer: Prin Lomros
Silphium
by Stora Skuggan, Sweden
Perfumer: Tomas Hempel, Olle Hemmendorff
Touchstone
by Aether Arts Perfume, United States
Perfumer: Amber Jobin
Villa M
by Paul Schütze Perfume, England
Perfumer: Paul Schütze
Wonderly
by The House of Oud, Italy
Perfumer: Andrea Casotti
INDEPENDENT CATEGORY FINALISTS 
A.E.O.M.
by Bijon, Germany
Perfumer: Cécile Zarokian
for Oliver Babic
Ankh Sun Amon
by Anima Mundi, Switzerland
Perfumer: Cristian Calabrò, Andrea Casotti
for Emilia Chinigò
Cacao Aztèque Eau de Parfum
by Perris Monte Carlo, Monaco
Perfumer: Mathieu Nardin
for Gian Luca Perris
Elephant
by Zoologist, Canada
Perfumer: Chris Bartlett
for Victor Wong
L'Eau de Virginie
by Au Pays de la Fleur d'Oranger, France
Perfumer: Jean-Claude Gigodot
for Virginie Roux
London
by Gallivant Perfumes, England
Perfumer: Karine Chevallier
for Nick Steward
Nuit de Bakélite
By Naomi Goodsir, Australia / France
Perfumer: Isabelle Doyen
for Naomi Goodsir, Renaud Coutaudier 
Osang
by Talismans - Collezione Preziosa, Italy
Perfumer: Giovanni Festa
for Stefania Squeglia
Pink Heart v.6
by Map Of The Heart, Australia
Perfumer: Jacques Huclier, Nisrine Grillie
for Sarah Blair, Jeffrey Darling, Giovanna Aicardi
Rose Olivier
by Bastide, France
Perfumer: Mathieu Nardin
for Frederic Fekkai
SADAKICHI AWARD FINALISTS 
Olfactory Games
by Maki Ueda, Japan / Netherlands
Under the Horizon
by Oswaldo Macia, Colombia / England
Smoke Flowers
by Peter de Cupere, Belgium
Whoa (Pineapple Nails)
by Aleesa Cohene, Canada
The Library of Smell
by Hisako Inoue, with Anne Marr, Japan / Germany
CONTRIBUTION TO SCENT CULTURE AWARD
This award will be given to one outstanding person who made significant contributions to global public awareness of artisan, independent and experimental practices with scent in 2017. The winner will be announced at the fifth annual Art and Olfaction Awards.
AFTEL AWARD FOR HANDMADE PERFUME
This award will be given on an annual basis to one outstanding small batch perfume that was 100% perfumer-created, in-house, with no use of outsourced compounding or expansion at any stage of the process. The winner will be announced at the fifth annual Art and Olfaction Awards.
+ LEARN MORE ABOUT THE FINALISTS
-

The Art and Olfaction Awards was founded in 2012 as an independent awards mechanism designed to celebrate innovation and excellence in artisan and independent perfume, and experimentation in scent within arts practices. The Art and Olfaction Awards are a program of The Institute for Art and Olfaction, a 501(c)3 non-profit based in Los Angeles, CA.
The Art and Olfaction Awards could not exist without the generous support of our partners at Lucky Scent / Scent Bar, Pochpac, Perfumers Apprentice, Esxence, Barrister and Mann, Aftelier Perfumes, Nez – La Revue Olfactive, Basenotes, ÇaFleureBon, AutumnSeventy, Perfumed Plume Awards.
The Institute for Art and Olfaction is a 501(c)3 non-profit based in Los Angeles, CA. The Institute for Art and Olfaction advances public and artistic engagement with scent. We do this by initiating and supporting arts projects that utilize the medium of scent, by providing accessible and affordable education in our experimental laboratory as well as in partnership with institutions and community groups, and by celebrating excellence in independent and artisan perfumery through our yearly award mechanism, The Art and Olfaction Awards. Through these efforts, we extend the world of scent beyond its traditional boundaries of appreciation and use.
MORE INFORMATION:
http://artandolfactionawards.com/
http://artandolfaction.com/
--
For press inquiries please contact:
Maxwell Williams, Press and Communications Officer
maxwell@artandolfaction.com - 213-271-6145