SADAKICHI AWARD FINALISTS, 2022
Due to a tie, there are six finalists projects for the Sadakichi Award for Experimental Work with Scent.
MEMORY BAR
by Thomas Buckley, Ned Lawlor, Renske van Vroonhoven
Perfumer: Renske van Vroonhoven
Memory Bar is a multi-sensory experience that creates a taster-menu from other people's memories and experiences. This edition was held on Jersey Island, March 2020 and worked around the theme of the occupation of the Island by the Nazis during WWII. From a series of community interviews, the interdisciplinary team of Memory Bar created an art-installation-posing-as cocktail-evening. They presented a 5 course experience that used projection, emergent technology, sound, taste and to a large extent smell to set the scene and immerse the audience into other people's memories. The installation itself is a tug of war between raw experiences/memories and the playful fun of a cocktail evening, between the digital and the non-digitisable. The technological side inspires wonder and expands what we thought was possible, the lower senses create the 'realness' and danger to the experience. "Do I really ... eat this?" "Wow.. I can sméll the garden!" We see Memory Bar as an empathy machine; when we step into someone else's world, become them, it becomes impossible to hate them or gloss over their experience. Their old memories become our communal, new ones. 
-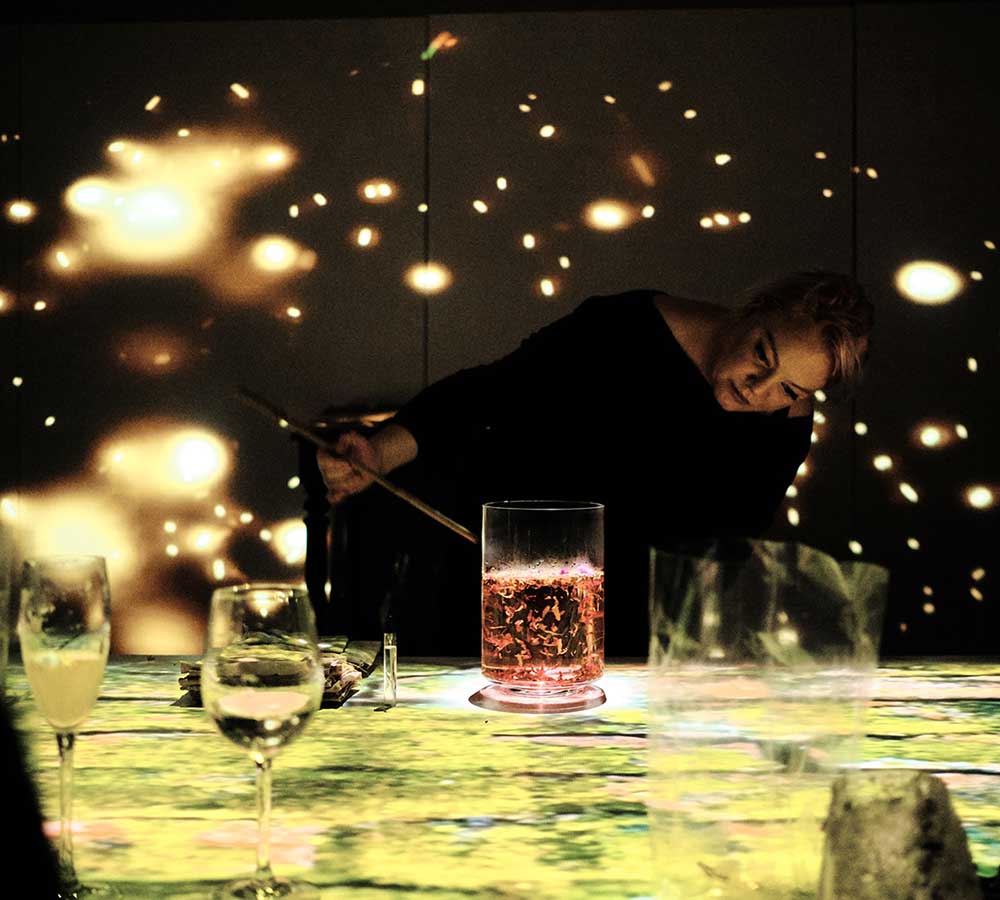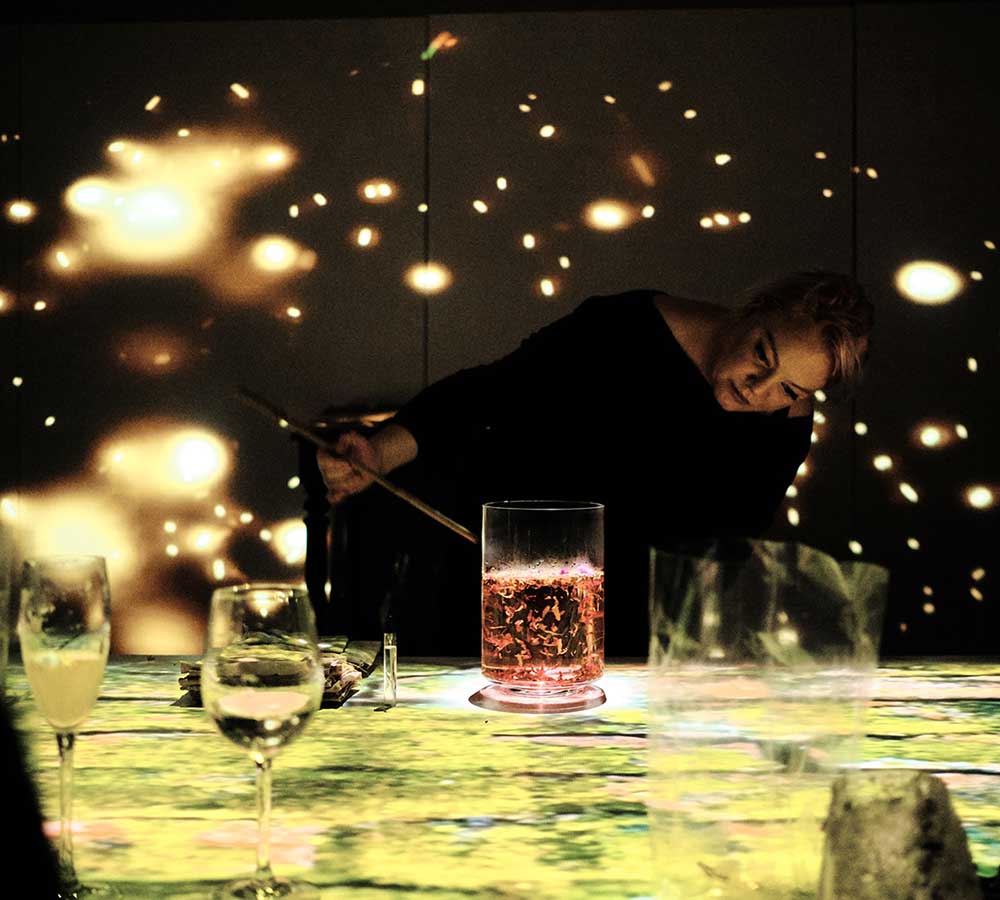 OLFABET
by Peter de Cupere
with Dr. Piet Devos, Tonia In Den Kleef, Leticia Larangé, Jan Gosselin, Francky Van Onacker, Timmy de Waele, Mei Lan Ng
Perfumer: Peter de Cupere
The Olfabet is an olfactory alphabet. Imagine that you can read words and texts by smelling. With every breath we (unconsciously) smell. By linking specific scents to letters, we can expand our ability to read and learn. For each letter, learn an odour (scent molecule). Several odours together make a word and create in this way sentences. Sensory translation of language: The better you learn the Olfabet, the faster you will be able to differentiate and smell the scents in sequence. Several odour letters form a scent accord, which can be recognised immediately as a word without having to smell the odours separately. From digital to olfactory concept: Imagine that digital text is translated into olfactory text to the rhythm of your breathing. Olfalanguage is the language in which letters, words and sentences are translated into scents via the Olfabet. Does it work? The documentary "The making of the Olfabet" features the testimonials of the 7 scent ambassadors. They are blind and visually impaired people. For the development of the Olfabet, the scent ambassadors were the heart of the project. The Olfabet is developed from their experiences as blind or visually impaired people. Thanks to their willingness, cooperation, and advice, the Olfabet came to life. In this way, every scent ambassador contributed in his or her own way, from their own life experience to the development of this beautiful sensory project. 
-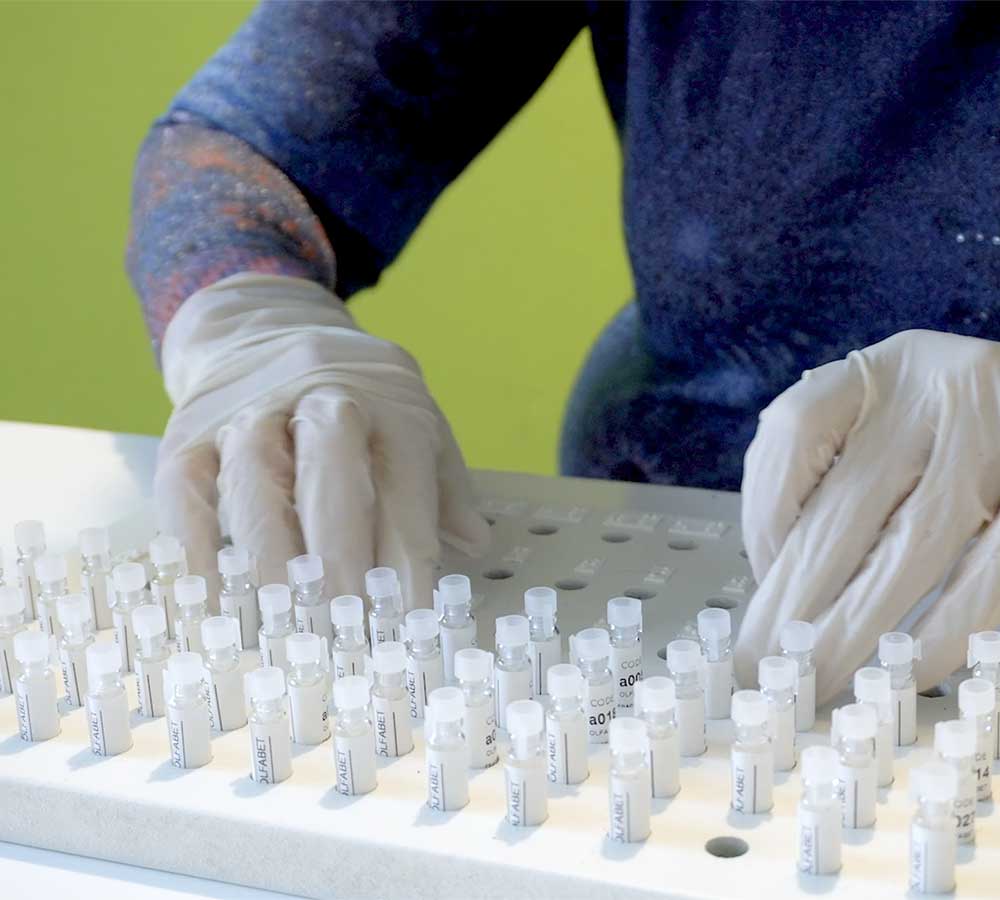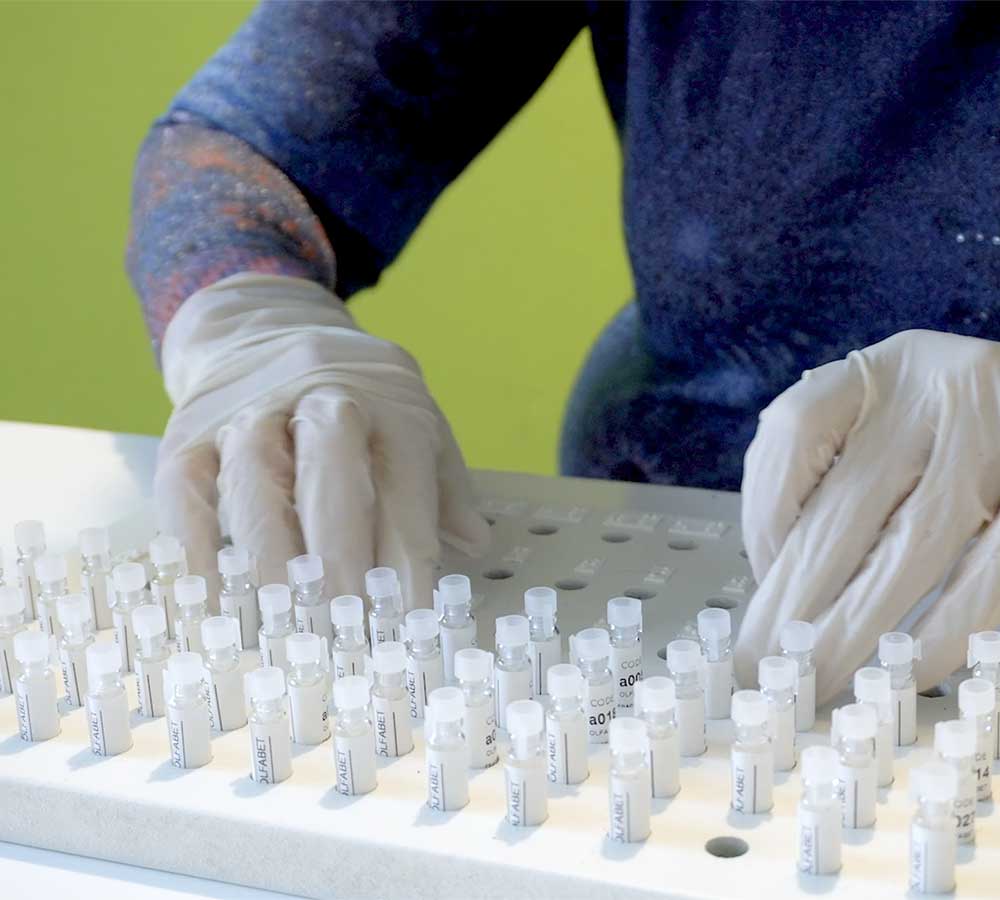 PULSE
by Charlotte Mumm
Perfumer: Frank Bloem
With: Lefki Mevissen
The work Pulse is a sculpture that goes further than the boundaries of haptic form and visible perception. Through a co-production with the olfactory artist Frank Bloem, there is a composition of various odours and fugitive fractions of urban scents released over time and in space. Fizzing and scented powder is being activated over time through a circular tube mechanism with water from a dehumidifier. This means that this exhibition will never be the same but always in flux.
Thinking about Imaginary Cities, the artist was pondering the different rhythms and spaces of a city and its inhabitants. This exercise was accompanied by a question inspired by Roland Barthes, from his lecture series 'Comment vivre ensemble', 1976/77: Is it possible to create a community where everyone lives according to their own rhythm, and yet respects the individual rhythms of others?
-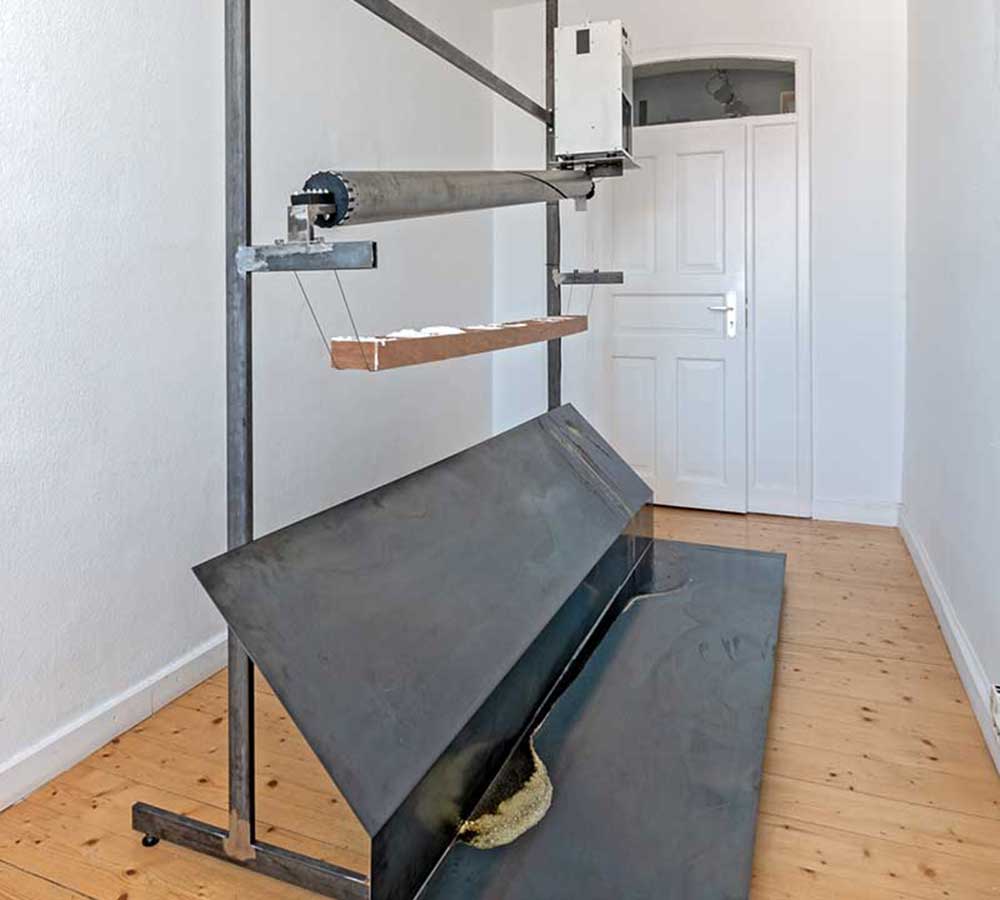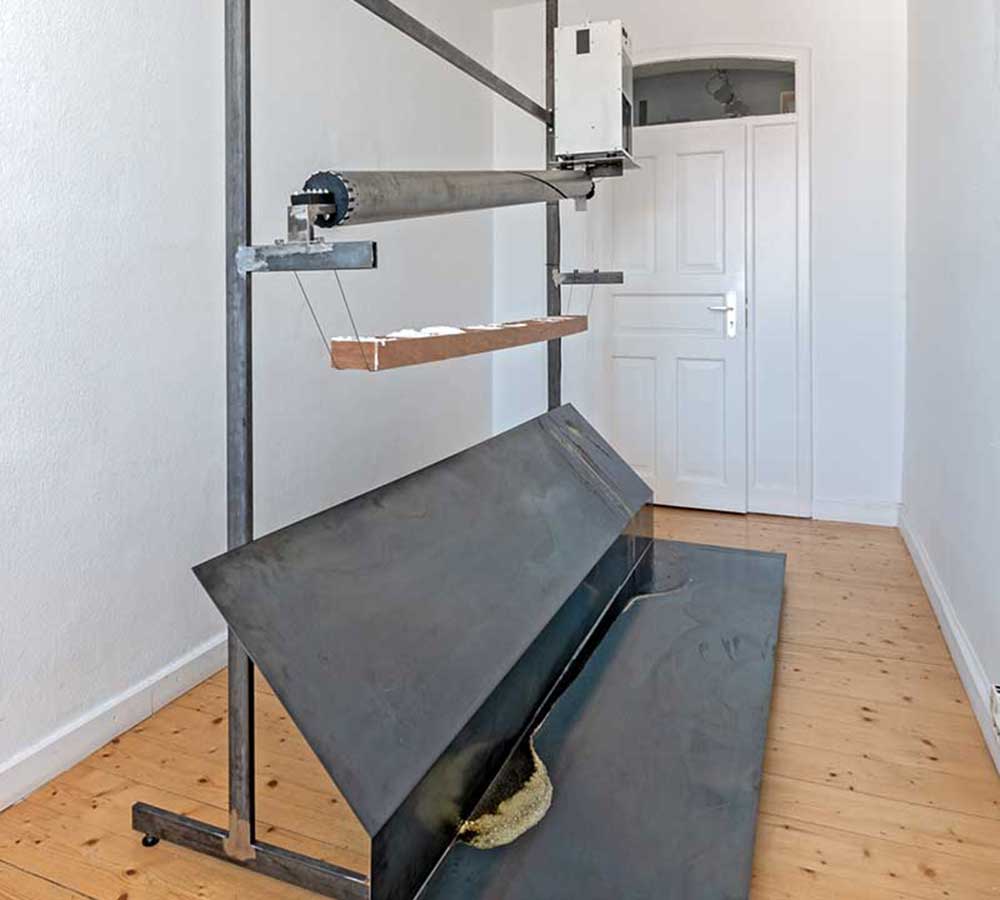 SCENT IN CINEMA / TWITCH & SNIFF ALONG
by Jas Brooks, Tammy Burnstock, Ashlyn Sparrow
Perfumer: Neal Harris and from Print-A-Scent's catalogue.
The "Scent in Cinema" and "Twitch & Sniff Along" are a set of free online series that showcase films and games that incorporate scent as a core modality. The interactive series cultivate a critical engagement with scented media amongst an international audience, across geographical and cultural divides. Installments take the form of online virtual screenings (films) or live-streams (games) with mailed scratch-and-sniff cards, followed by a moderated panel discussion with the director, field experts, and game designers. "Scent in Cinema" spotlights films and cinematic experiences leveraging odors, while "Twitch & Sniff Along" spotlights historic - and eventually new - scented games.  Olfactory art, in particular scented cinema, has consistently been the brunt of dismissive humor. The "Scent in Cinema" series seeks to present works of scented cinema and provide critical discussions of this medium. The events include a virtual screening with mailed scratch and sniff cards followed by a moderated panel discussion with experts in the field. This event is meant to (1) increase enthusiasm about the study and creation of olfactory arts; (2) cultivate better sensory understanding of and critical engagement with smell; and (3) provide connections across several fields.
-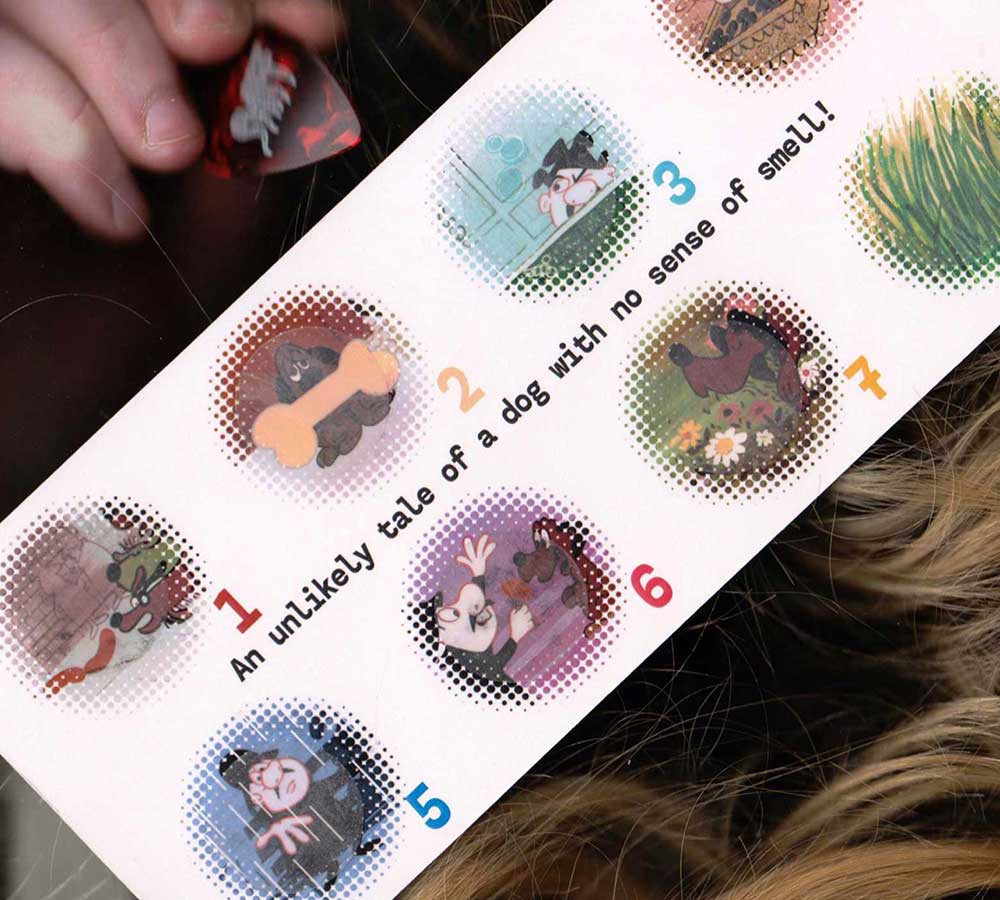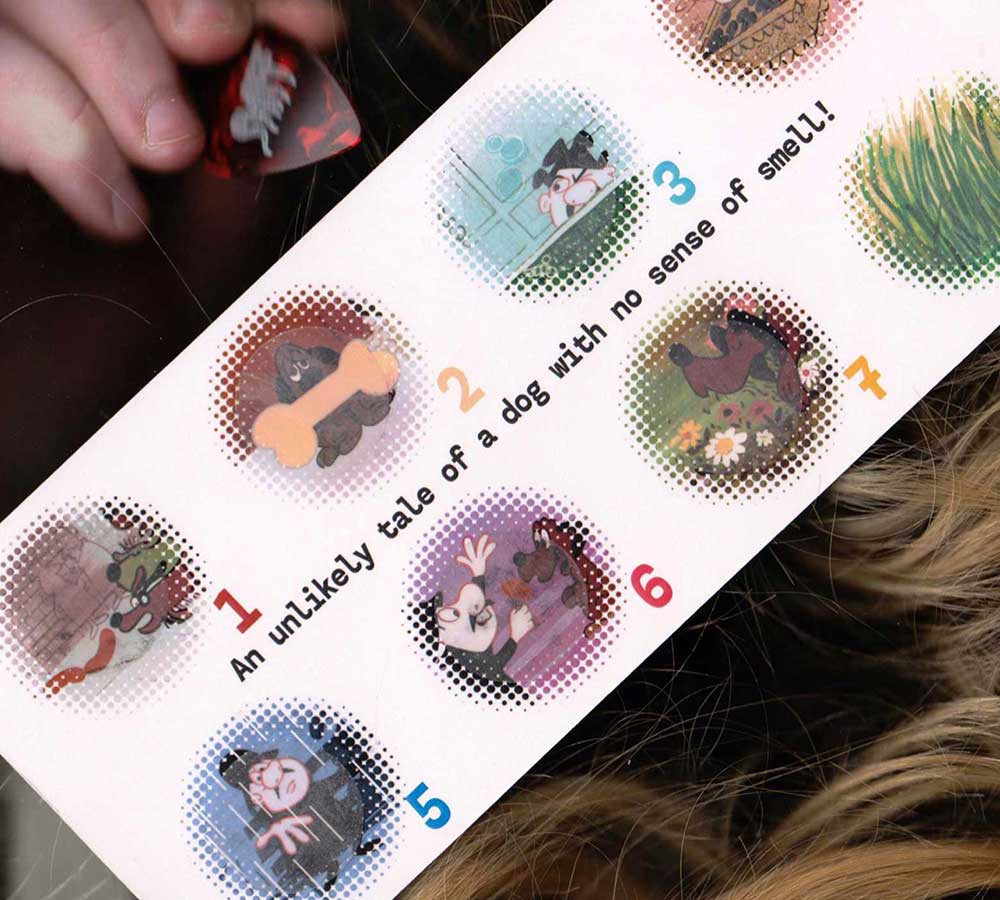 THANATOS
by Eric Fong
with Dr Anna Williams
Perfumer: Euan McCall
Thanatos is a multisensory installation centering on an eponymous original perfume that evokes the scent of a decomposing body discovered in a woodland. The project is inspired by the observation that some of the 400+ volatile organic compounds (VOCs) emitted during human decomposition are identical to some of the natural ingredients used by perfumers. For instance, Hexanal, which smells of freshly cut grass and used as a green note in perfumes, is present in the early stage of decomposition. Another ingredient, Indole, which is emitted in trace quantities from white flowers such as jasmine and neroli, is also present during various stages of decomposition, albeit in much larger quantities. Thanatos is thus a blend of floral and wood scents plus selected decomposition VOCs. It takes the audience on an olfactory journey from the scentscape of an open meadow to the middle of a secluded forest where a decomposing body is discovered. The installation comprises four distinct but interrelated elements: the perfume Thanatos displayed as a physical product; the scent of Thanatos, experienced through interaction with a sculpture modelled on an autopsy table; The Search, a suspenseful short film of a search for a cadaver in a forest; and selected photographs from Traces - a series of staged crime scenes taken at the Crime Scene House at the Forensic Anthropology Department at Teesside University, UK.
-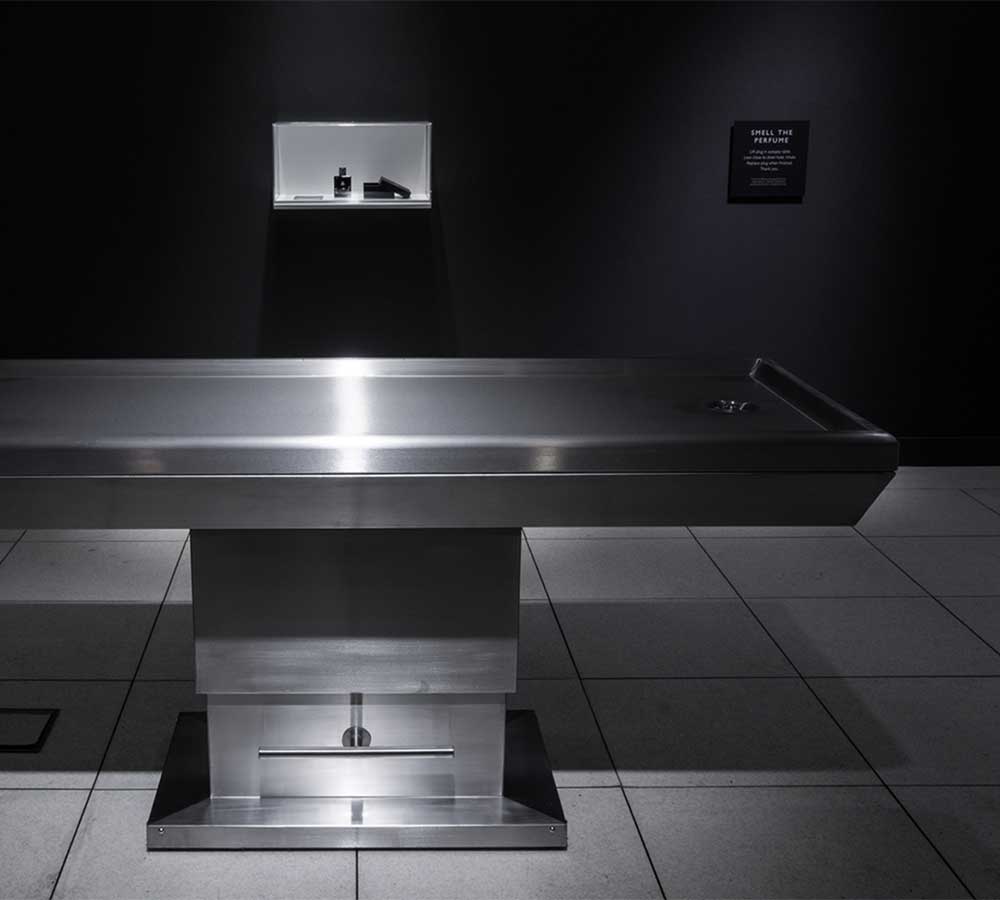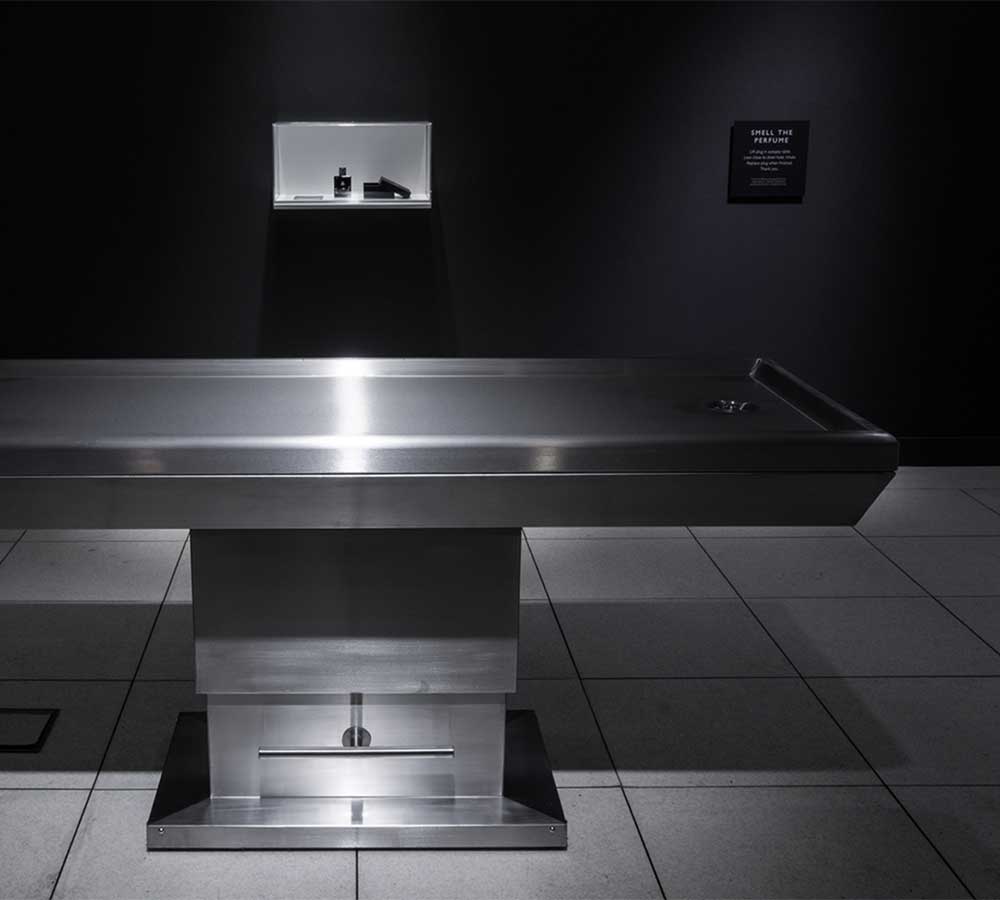 VIRAL PERFUME:
WHAT IF CORONAVIRUSES WERE SOMETHING YOU COULD SMELL AND SEE?
by Maki Ueda
Perfumer: Maki Ueda
In this work, Maki Ueda uses scents to represent the different mutations of the virus. Visitors may spray the "viral parfum" anywhere they like in the room. Other visitors can detect and recognize the scents to find out where the virus is attached. The virus is invisible under normal light, but is occasionally illuminated by using a black light.
The artist came to the idea that the way this virus spreads has similarities to the way scents spread.  When the scents are combined in the space, they create the scent of white lily; a fragrance to mourn and honour the deaths caused by the novel coronavirus.
Mutations: NO.1 skyblue (accord with hidroxycitronellal and lilial), NO.2 green (accord with citronellol, ionone alpha, and iso eugenol), NO.3 yellow (accord of ylang ylang), NO.4 blue (accord with nerol, paracresyle phenyl acetate, geraniol), NO.5 white (accord with linalool, vanillin, phenyl acetaldehyde), No.6 orange (accord of neroli).
--