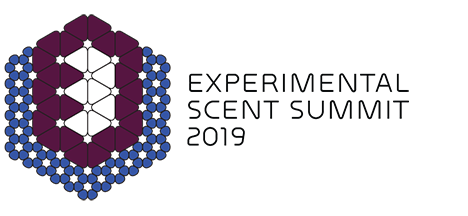 Date: May 4, 2019, 10am – 6pm
Location: NDSM Fuse (NDSM-plein 85, 1033 WC Amsterdam)
The Institute for Art and Olfaction teams up again with Berlin-based artist Klara Ravat (Smell Lab) for the third annual Experimental Scent Summit. Over the course of a day, attendees will come together to share ideas with an exciting schedule of talks, breakout discussions and project presentations relating to experimental sensorial practices. A friendly, relaxed and conversational meeting of olfactory artists, the Experimental Scent Summit is an annual opportunity for participants to share their work while openly discussing the challenges of working with scent. All this and more in an unrestrained, non-competitive, supportive environment.
10am - WELCOME
Introduction + Greetings
with Saskia Wilson-Brown + Klara Ravat
10:20am - TALK
Olfactory Accountability in the Age of Scent-Free Spaces
With Eleonora Edreva
What are the ethics around creating olfactory work at a time when chemical sensitivities are on the rise? This talk will begin to parse through navigating the new responsibilities and challenges of being perfumers and olfactory artists amidst a growing culture of skepticism around scent in public spaces.

10:40am  - TALK
The Immersive Art Through Historic Scent Recreation
With Alexandra Bachand
In order to honor history, olfactory art can be the interpreter of the past by making it accessible to our contemporary perceptions. Why then is it paradoxically necessary to sometimes ignore certain historical evocations in favor of artistic intuition, so that the scent has the essence of a narrative that carries us emotionally through time?
11:00am - TALK
African oils: Is There Hope?
With Bhatupe Mhango-Chipanta
Using vetiver and baobab oil extraction in Malawi as a case study, we will explore the potential of the oil extraction industry in Africa to bring about economic impact to the communities involved at the grassroots level, while addressing technical questions around whether there is adequate training, know-how and capacity for the creation of new African hubs for perfumery and wellness.
11:20am - BREAK
11:40am - TALK
To Boldly Smell What No Man Has Smelled Before
With Clara Muller
Why are we obsessed with the smells from outer-space? This talk will investigate the reasons behind this fascination and explore how it translates into artistic projects using scent as a medium, taking us on a sensory journey through space.
12:00n - PROJECT PRESENTATION
Experiments with Buckwheat
with Leonard Janke
Description to come
12:10pm - PROJECT PRESENTATION
Lingua Planta - the olfactory language of plants
with Merle Bergers
Plants communicate using volatile molecules that we perceive as scents. Based on the main communicative messages of plants; Attract, Repel and Defend I designed three perfumes, or smellscapes to inform a broader public on the communicative capabilities of plants.
12:20pm - PROJECT PRESENTATION
Smoothly-Moving Parts: Scent and the Transhuman
with Christopher Gordon
Taking the transhuman condition in the imminent post-human environment as a cue, perfumer Christopher Gordon presents an olfactive response to an imagined future where the scents of physical exertion have been purged from a frictionless world. 
12:30pm - LUNCH BREAK
1:30pm - TALK
Supporting AI System for Developing Personal Olfactory Language
with Toshi Kurisu
How could ordinary people built olfactory terminology which is more personal, but also somewhat universal? Toshi will discuss brief introduction of our AI/IT database system which gives some hints for expressing the scent more personally and freely, not only with just emotional expressions but also with poetic and literary expressions like "early autumn morning".
1:50pm - TALK
Creative Manifestation of Olfactory Subjectivity
with Eun-young Park & Eva Niezgodzki
Exploration of how olfactory subjectivity manifests in creation, by looking at different stories written by people of diverse geological/cultural background. These stories are based on a set of three different scents, curated to have different olfactory signatures depending on region/culture.
2:10pm - BREAK
2:30pm - PROJECT PRESENTATION
Transforming politics through the borderlands of scent
with Cat Jones
Through a series of conversations Scent of Sydney unfolds a cultural portrait of the city – stories of competition, extravagance, landscape, resistance and democracy, transform politics through the intimacy and borderlands of scent.
2:40pm - PROJECT PRESENTATION
From factory to stage: a soap opera dance production
with Anna D'Errico
A former soap and perfume factory is now an independent production house. From soap and perfumes to theater and performance art: How industrial production and theater production have been changed over the years? Do they (still) smell good?
2:50pm - PROJECT PRESENTATION
Multisensory Virtual Reality system for astronauts' entertainment and relaxation
With Marina Carulli
The research presented in this talk aims at designing and developing a futuristic multisensory VR system for the entertainment and the relaxation of astronauts. The use of VR technology allows us to overcome physical and psychological boundaries of the confined space, which is typical in a spacecraft environment. The sense of smell, is used to improve astronauts' productivity and concentration, and also to relieve their stress and anxiety.
3:00pm - PROJECT PRESENTATION
Library of Smells
With Alicia Bloundele and David Ottley
Library of Smells is an exhibition and participatory art project which uses scented ink to create books for people who are unable to access mainstream literature or libraries.  Our target audience is adults with PMLD (profound and multiple learning disabilities).
3:10pm - BREAK
3:40pm - PROJECT PRESENTATION
Cooking and Perfume
with Tessa Liebman
Whether they are considered craftspeople or artists, what chefs and perfumers most share is the fact that they are storytellers. They don't necessarily use words to describe a place, a time or a feeling, rather fragrance and flavors to convey the same information. From the choices in ingredients and provenance to the techniques employed, presentation and setting all of these choices further the story and emotional nature of experience. Let's see what these snobby sensualists share through an exchange of ideas.
3:50pm - TALK   
Without Thought: Reuniting the Senses
With Paul Schütze
The artist explains his thinking behind the creation of vision, sound and fragrance for a work in which each sense holds equal value and each medium submits to the same creative process. The idea of stereo perfume, created for this piece will be demonstrated.
4:10pm  - TALK
What did the Cromhout Family Smell (Like)? The Lost Aromatic Heritage of 18th Century Amsterdam
With Caro Verbeek
The 18th century is known as the 'powder wig era'. Perukes were often perfumed, just like gloves, fans and pomanders and used to flaunt luxury and wealth.  But outside everyone - rich or poor - was subject to the same filthy canals and other environmental odours. Inhale an Amsterdam scentscape inspired by the (in)famous Cromhout Family.
4:30pm - OPEN MIC
Who Are You and What Do You Need?
People from the audience who put their names in the hat at the beginning of the day will be invited for timed 2 minute presentations of what they are working on and what they need.       
5:00pm - DISCUSSION
Plenary Discussion
Group chat, conclusions, suggestions, thoughts.
5:45pm - PHOTO SESSION
Our annual group photo
6:00pm - END

NDSM Fuse is a vibrant event and exhibition space in the NDSM warehouse where artists from the NDSM Art City and creative talent from outside can present themselves to the outside world. Here visitors are inspired and stimulated to return home with a richer experience or with a nice memory. The former skate park has thus become a unique meeting place where people want to come back because of the constantly changing offer, both artistic and culinary. This makes NDSM Fuse a place where art, food and people merge (merge) and from which new things arise