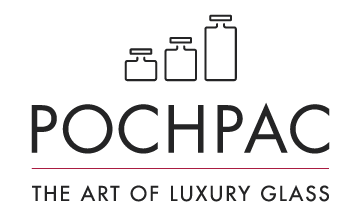 PochPac: the Home of the Pochet Creation and the Art of Luxury Glass
The PochPac philosophy is simple – we provide, in the shape of a Pochet Creation bottle, the opportunity for both creative global brands and niche perfumers to bring their fragrance to market.
Our unique ability is to be able to offer small volumes of both Pochet Creation bottles and the decoration variants that allows brands to blossom and grow. Designing a perfume takes creativity and vision. Your perfume is your unique message in a bottle. Our promise is to express that message expertly, on the blank canvas of a Pochet Creation.
As Pochet du Courval's agent and distributor, we have access to a unlimited global decoration capacity. This allows our London screenprint factory to focus solely on providing that unique, highly personalised, 'atelier' service, delivered by our small team of craft printers. These printers have over 100 years of combined experience in delivering high quality print on glass.
As well as holding over 800,000 Pochet Creation bottles in stock, we also supply a wide range of Aptar pumps and a small selection of beautiful hand-picked caps. Our ability to supply these items without the requirement for a large MOQ gives all of our clients access to the widest possible range of quality products.
Alongside this, we also specialise in supplying the latest range of printed sample vials. The market for these has been growing significantly in recent years and now almost all of our clients offer printed vials as part of their marketing strategy. We hold in stock both a 2ml and a luxury 7.5ml size. These are available in a wide range of finishes including black, silver and gold.
As well as working with our range of Pochet Creation bottles, we also specialise in working with brands who want to design and manufacture their own custom bottle. In recent years, we have worked with the creative teams behind Escentric Molecule, Yamamoto and the Beautiful Mind to produce their own uniquely individual perfume bottles.
As a PochPac team, we attend a number of perfume and packaging events throughout Europe. This year will see us at Esxence in Milan and Fragranze in Florence, as well as the Packaging Innovations show at the NEC. Another exciting aspect last year has been to support the Groupe Pochet team at the Luxepack exhibition in Monaco where Pochet were showcasing their brilliant new fragrance bottles for Louis Vuitton, Alexander McQueen and Hermes.
Learn more at Pochpac.co.uk
We are excited to partner with Pochpac for the fourth year at the 2019 Art and Olfaction Awards. We believe that Pochpac provides an important service to independent and artisan perfumers by providing their beautiful, custom printed bottles with small minimums.