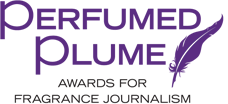 'The Perfumed Plume Awards™ for Fragrance Journalism, now in its 2nd year, is an independent recognition of creative storytelling that engages and educates the consumer on the art and craft of fragrance. It celebrates stories that give the reader an inside view of the cultural, historical and personal approaches to fragrance design and what it takes to create an evocative scent. Stores that illuminate why some fragrances can instantly evoke memories of a person, time or place.
Conceived and spearheaded by experienced fragrance industry insiders Mary Ellen Lapsansky and Lyn Leigh and supported by a collaborative and inspiring Consulting Committee, the Perfumed Plume Awards™ specifically targets the many talented writers and visualists who bring to life the craft, the inspiration, the emotion and the sensory journey that are at the heart of fragrance creation, quickly becoming an annual, iconic symbol of media excellence and a new way to create a broader awareness & appreciation for fragrance through high quality, informative, enlightening and of course entertaining storytelling.
Learn more at perfumedplume.com
We are excited to partner with the Perfumed Plume Awards for a second year, for the the 2017 Art and Olfaction Awards. We applaud their dedication to an often-overlooked community: Fragrance journalists. Our thanks to Mary Ellen Lapsansky and Lyn Leigh for their ongoing support and collaboration.