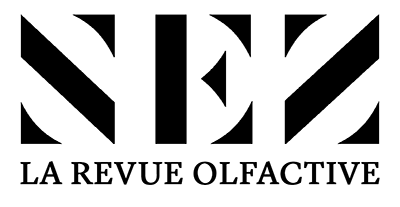 NEZ is the first olfactive magazine - with a focus on society and culture. Nez proposes that we use our nostrils to understand the world that surrounds us. A magazine available at bookstores and online, Nez was first published in April 2016.
With a varied style of editorial, NEZ presents a classic magazine with the quality and longevity of a book. The magazine unifies olfaction and perfume in a cover-all approach: Exploring, deconstructing and explaining both facets of scent through investigations, interviews, photography and illustration. Topics covered include science, history, literature, art, and - of course - olfaction, creation, locational scents and historic scents, as well as perfumery (history, culture, business and more). NEZ has been published in English since 2017.
We are excited to partner with NEZ - La Revue Olfactive for the third time at the 2019 Art and Olfaction Awards. A special thanks to Jeanne Doré and Dominique Brunel.
©Romain Bassenne / Atelier Marge Design
--
NEZ est la première revue olfactive… de société ! NEZ vous propose d'utiliser vos narines pour comprendre le monde qui vous entoure. NEZ est une revue que vous pourrez vous procurer en librairies (à partir du 14 avril 2016) et sur notre site. NEZ emprunte à la revue ses traitements éditoriaux variés, au livre sa qualité et sa pérennité.
NEZ se propose d'unir odorat et parfum dans une même approche : Explorer, décrypter, expliquer à travers des enquêtes, des reportages, des rencontres, des photographies, des illustration… Nous y parlerons science, histoire, littérature, art, mais aussi odorat, création, odeurs de lieux, odeurs du passé…
Un grand dossier thématique sera l'occasion de traiter d'un sujet en profondeur à travers le prisme des spécialités des différents contributeurs. Une part importante sera bien évidemment dédiée au parfum et à la parfumerie : vision du marché, cahier critique d'une sélection de nouveautés, valorisation du patrimoine.