Altruist
J.F. Schwarzlose Berlin (Germany)
Contact: Lutz Herrmann
CD: Lutz Herrmann
Perfumer: Véronique Nyberg
Fragrance House: Mane
Release Date: 03/2016 (Source: Fragrances of the World Database)
Website: www.schwarzloseberlin.com
Finalist Category: Independent, 2017
Fragrance and art are linked through the aspiration to reach out to new experiences. For 2016 we decided to work with artist Paul DeFlorian, giving him a maximum influence in all aspects of this project. This included not only the concept, name and the look but also the composition of the scent itself. Together with our perfumer, he translated his painted work and his imagination into a scent, a concept, and a look for the packaging and the bottle. The result is Altruist, an elegant but unconventional perfume. Dry and humid in equal measure, it combines deep contrasts and transmits a bright freshness. A scent for feminists, cyborgs and survivors.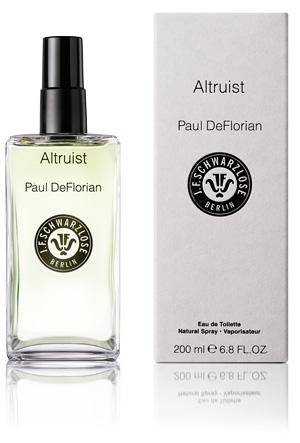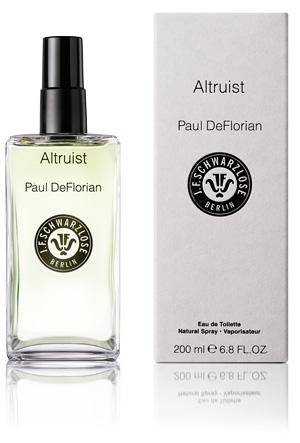 J.F. Schwarzlose Berlin (or J.F. S. Parfums Berlin) is a company which revives Berlin's fragrance traditions, while evolving those traditions of perfumery in a modern way.
J.F. Schwarzlose was founded in 1856 (until 1976), and catered to Royalty as well as to perfume experts. In 2012 it was revived by three passionate fragrance addicts: Véronique Nyberg, Tamas Tagscherer and Lutz Herrrmann. Their vision is to bring back the traditional heritage of German perfumery, and to create outstanding esthetic fragrances by pushing the boundaries of traditional perfumery and through an attention to sheer quality.